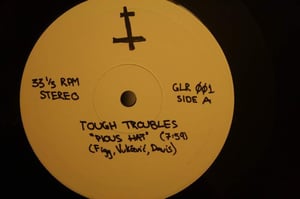 £

5.00
GLR001
Tough Troubles (Holloway) and Chris Mainwaring is Dead (Duncraig) split. Debut release from both bands. 10 inches.
Tough Troubles side
"Pious Hat" is 7 minutes and 59 seconds in length, and is a tale of partisans chased through the frozen forests of Bosnia by the Hun, c1943. Heavy, repetitive and perturbing.
ex- Eagle Boys, Soviet Valves, PC Thug etc.
Chris Mainwaring is Dead side
Three tracks: "Dad likes Footy", "Hail to the King", "Coz I Like Footy". Tight, turny, atonal and multi-faceted tunes.
ex Extortion, Surburban Disease, Frightener, Hailstones Kill 200 etc.